A version of this article was first published on HuffPost.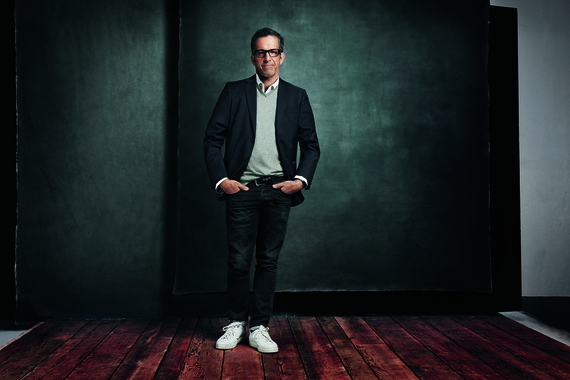 Kenneth Cole – Designer & Philanthropist

For the past 30 years, we have known you as Kenneth Cole the designer and philanthropist. You are one of the first person in the fashion industry to publicly support AIDS awareness and research and a pioneer in socially conscious advertising. What led you to Haiti?
We have had a long-standing initiative for the past 20 years: once a year, we would run a shoe-drive in our stores benefitting the homeless. At first, the initiative lasted for a week and then it turned into the whole month of February. Customers would donate a pair of gently worn shoes to homeless populations in the U.S. in exchange for a discount on their next purchase.
And then the earthquake happened in Haiti in January 2010 and launched our annual shoe drive in February but this time to benefit the people of Haiti. We ended up shipping thousands of pairs and quickly realized there was still so much more to be done there, so we started a fundraising campaign, in store and that included a corporate match. We came down to Haiti to see first-hand how to bring our limited resources to a community with unlimited needs.
When you first came, right after the earthquake and in the middle of such devastation, how did you and your team figure out what your next step would be?
We came here and were figuring out how do we make the greatest impact in this country that has limited resources and unlimited needs? How can we work in the best and most meaningful way possible? So we initially thought of opening a community center where we could provide healthcare and services that would involve the community, maybe even recreational. This is something we felt with the least costs could have an impact on the greatest number of people. And then, as we started searching around, we saw an opportunity to do that and met the St Luke Hospital team and we were sold on this idea. We decided to focus on Cite Soleil (slum north of the capital city of Port-au-Prince) as an opportunity for us to connect with people that we felt needed it the most.
While we were here, we also looked at people who did footwear, to see if there was a way we could create something in-brand that would benefit the community. This is how we found Rebuild Globally and Deux Mains. We launched our exclusive sandals designed and made in Haiti from recycled tires. In the ideal world, what we had set out to create was a sustainable ecosystem where we can create products, sell them in our store here in Haiti (which opened last year) and supplement these sales with sales in the USA, then the proceeds from these initiatives go to support the Kenneth Cole Haiti Health Center in Cite Soleil and uplift the community as a whole.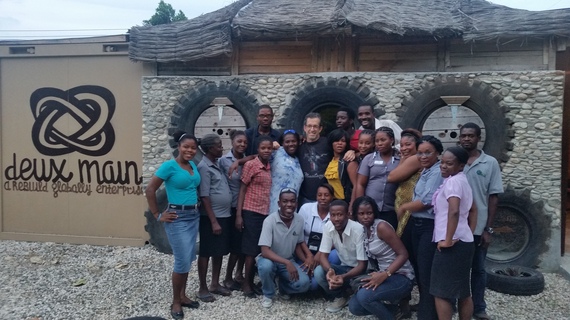 Do you have a timeline in order to achieve sustainability of this "ecosystem"?
No and I am not sure we will get there but the process and efforts working towards it are very gratifying. Even just looking at where we are right now and what we are creating is I think already a big deal. Coming back year after year, you see the changes, the evolution.
You know, people question the work ethics and motivation of the Haitians and I can tell you that we have had a very different experience. With absolutely no infrastructure, no resources, what they have created here is extraordinary.

What made you see business and activism as interdependent?
I have often been asked if I thought it's right for a company to invest in non-core community initiatives and if business' communities' interests are related or independent. I believe, they are not only related but inter-related and not only independent but inter-dependent. They are the proverbial hands that feed each other.
I do think it is now one of the greatest and most effective way of connecting with audiences and communities and creating more opportunities for businesses and individuals. And I think people are learning that it's not about the destination but about the journey. It is a personal connection.
I believe that all business will come to this same conclusion and that if their hearts don't get them there eventually, their balance sheets will.
Where do you find your inspiration?
I get inspired all the time. Everywhere I go, around everybody. Just being around different cultures, different people and taking in the way they express themselves in their own way.
What has been your biggest breakdown to breakthrough?
Bringing my business and my personal and aspirational goals together has been the biggest breakthrough. It totally changed the brand, the company and the design. And then years ago when I made the decision to justify our place in the marketplace, as the markets were consolidating, the brand needed to define itself .When we went public 20 years ago we allocated a lot of financial and human resources and focused on building up a brand from A to Z: aesthetics, point of view… Giving the brand its voice that will manifest itself in a consistent way.
What legacy do you wish to leave behind?
I just want to do the right thing. Create some awareness that what you stand for is more important that what you stand it AND to be aware is more important than what you wear.
Kenneth Cole's interview is the first of a 3-part series dedicated to his commitment to rebuilding Haiti and the impact of the sustainable ecosystem him and his team are working towards. Kenneth Cole has set out to develop and implement creative solutions to empower a whole country and is the ultimate example that driving profits with purpose is the future of business.

We know what's underneath matters to you. At our core, we are a women's empowerment company that stands for strong values and principles. Ten percent of every order of our comfortable, body-celebrating seamless underwear, bralettes, shapewear, and masks fund Microfinance loans for female entrepreneurs around the world. That's also why all seamless products on our site are made at manufacturing plants under the Women's Empowerment Principles developed by the United Nations. That means your panties are made ethically: no sweatshops, and no fast fashion. Learn more about our mission and our products.