Andrew Rosen On Challenging The Status Quo
A version of this article was first published on HuffPost.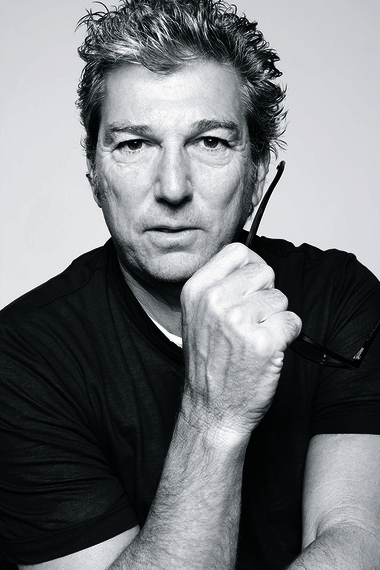 Andrew Rosen — Chief Executive Officer of Theory
What are you excited about working on right now?
The world has changed in so many ways, there's a new industrial revolution going on and the way we live our lives is totally different. I'm excited in terms of rethinking how apparel companies operate. Not changing the aesthetic or culture of our company but changing the methodology of how we do business. It creates lots of problems on one hand, but lots of opportunities on the other. Certainly, the retail industry in America has been disrupted and disoriented but I think there are lots of challenges and opportunities there.
The whole information and digital age has changed everything. I can leave my office heading to the airport and know exactly how long it's going to take me to get there and what's the best way to travel. That was unheard of just a few years ago. Likewise, although our business still needs to have a lot of art to it, I think there is a lot more science. It has to be able to communicate with the customer directly, and get feedback from them in a way we were never able to before. Customers are demanding more individualized service because now, it's possible.
Millennials — how do you stay in touch with them and yet stay true to your heritage?
I think what's important is staying authentic to the brands and creating an experience. I don't get hung up on this demographic or that demographic, I get hung up on how do we convey the authenticity of our brands in the right way and how can we do things that are modern and relevant for our brands. I'm big on creating culture and being transparent around the culture and authenticity within our company. Young people today want to see inside companies, they want to know what the companies are about beyond just the product. I'm also really into collaborating with other like-minded entities.
How do you balance both working in the business and working on your own business?
My day to day business is in Theory and Helmut Lang, that's where I spend most of my time. But my involvement in the CFDA Fashion fund or what is going on in the future of the garment industry in NYC, that allows me not to get too wrapped up in my own work. It allows me to have a bigger vision about what is going on in the industry. I like to get involved in young designers because I get to understand companies outside of my own. They like it because they get my perspective on things, but it's as good for me as it is for them. I get a vision of what is going on in our industry and it helps me understand the landscape a lot better.
My grandfather started in the garment industry over 100 years ago and I grew up understanding the clothing and manufacturing industry. Today it's changing so fast, so I understand it in the incredibly tangible way of bridging the gap between the old industry and the new industry. It's not so much about saving the garment industry, as it is about evolving and advancing the industry. I think it's critically important for design and manufacturing to be located near each other and have the opportunity to collaborate on product. When you see great product, it's because designers and manufacturers are collaborating. Whether it's Italy for shoes and bags, or LA for jeans and t-shirts, there are lots of great artisans there but they've also invested a lot in new technology. What's going on in NY is there are great artisans in NY, but they need investments, and that is what I'm hoping to make happen here.
You founded Theory in 1997 with Elie Tahari and introduced the world to stretch fabric businesswear.
What was the motive behind the move to elegant comfort? Why do you think it has been so successful amongst consumers?
I'm very much into the technology of fabrics, whether it keeps you warm or keeps you cool, or makes you feel a certain way. When I started Theory, fabric weavers were starting to weave Lycra into products and I wanted to be the first company to be an expert in fabrics with Lycra. It was that new fabric and technology that launched my business. I'm sort of now into the wearable tech movement, but I'm very much into the fusing or bonding of fabrics without sewing. A lot of that is used in athletic wear and I think that's very relevant to the future of our industry.
What do you feel is the biggest paradigm shift you've experienced when seeing something differently changed your life?
I see things that are impactful to me as a constant evolution in my life. I see a constant journey of things that inspire me and give me reasons to do what I do. When I left the big corporate world and started my own company, I did it because I didn't like the corporate world. I started on this journey of doing things that felt good to me and not because I had to do it. I took over my dad's business when I was very young when he passed away suddenly and I was used to having to get things done for the sake of the business. But when I started my own company I was able to get involved in things I liked, like helping new designers, and that has shaped the latter part of my life and what I do now.
What has been your biggest breakdown to breakthrough moment?
A big lesson in failure for me was when I was the CEO of a big company and I had a disagreement with the boss and I got fired. I suppose along the way I thought the things I did right, I inherently did right, but there is a lot to learn from getting set back. I needed to decide what I wanted to do and what I could do at that moment, and it motivated me to start my own company. If I had never gotten fired I never would have started Theory. I wasn't happy doing what I was doing anymore and that's the thing, a lot of times you stay doing what you're doing because you're afraid of doing something different. So I suppose it was a good thing someone made that decision for me, which pushed me to do something different. I suppose once I stop failing I should just retire.
What kind of legacy do you wish to leave behind?
I never really thought about it, but I just want to do the right thing every day and do the best that I can. The right thing is whatever is making me feel inspired to continue to do what I do. I'm still focused on what I have to accomplish for the future, I'm rarely looking back at what I've accomplished. I just want to be perceived as someone who was very passionate about what they did and was compassionate, fair and just. Someone who was straightforward about business and did it with integrity.
Andrew has been disrupting fashion way before even "disruptive" became a buzzword for "badass." For Andrew, finding new ways of doing business and being at the forefront of innovative fabrics is not being a trendsetter, it is just his natural state. A clue you are sitting with an icon is when you are sitting with him at his empire and he focuses his discussion on what he is determined to do instead of boasting about everything he has already done. I think the major lesson from Andrew is to never settle and always push for the best version or iteration of yourself.
We know what's underneath matters to you. At our core, we are a women's empowerment company that stands for strong values and principles. Ten percent of every order of our comfortable, body-celebrating seamless underwear, bralettes, shapewear, and masks fund Microfinance loans for female entrepreneurs around the world. That's also why all seamless products on our site are made at manufacturing plants under the Women's Empowerment Principles developed by the United Nations. That means your panties are made ethically: no sweatshops, and no fast fashion. Learn more about our mission and our products.